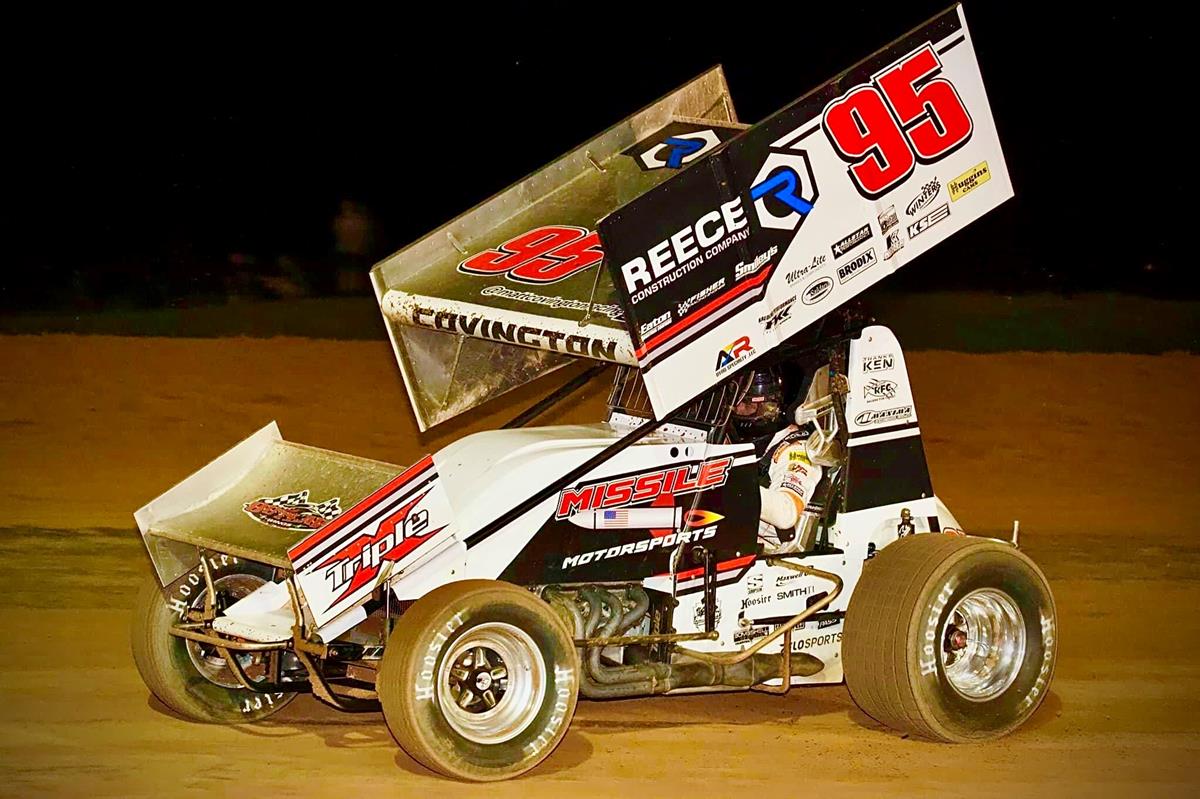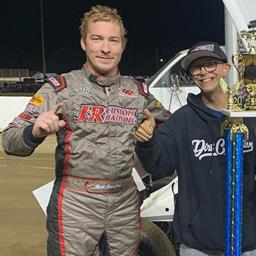 ---
Runner-Up for Covington at Lawton Speedway
Matt Covington Racing- Glenpool, Ok. (June 28th, 2023) Matt Covington came home 2nd and 7th this past week with the ASCS National Series at Lawton Speedway and Caney Valley Speedway.
Thursday night at Lawton Speedway, Covington started the night off with quick time and overall fast-time qualifier. This granted him the 4th starting position in the heat. Covington would advance to second and earn the high point driver of the night award. The inversion roll would result in a 4th place starting position for the feature. With the race underway, Matt was able to work into 2nd and make a run on the leader on lap 12. Unable to complete the pass, Covington would settle into 2nd as his mount started to gain an engine stumble and motor lug off the corners. Covington would hold on and maintain in the closing laps to finish 2nd at the checkers.
On Saturday the team and series took on the Caney Valley Speedway. Covington would be the fast-time qualifier in his group and again go 4th to second in the heat race. This would grant him the high point driver award, where he would draw the 6th starting spot in the inversion. With the drop of the green, Covington worked to roll the bottom and low side of the track while narrowly missing a handful of early race cautions. With a mid-race incident resulting in a spin, Covington would sustain nose-wing damage and have to go to rear of the field. A late race red gave Covington and team a chance to add some fuel that helped mount a charge and a chance to gain a few more positions after going to the back. Luckily, Covington was able to salvage the night and drive back up to 7th when the checkers waved.
"Thursday, we had a fast race car," Covington commented. "I just made a mistake with the gear and fuel system for the feature. I gave it a little too much fuel and with the gear we had it just wasn't a good combo that resulted in the motor stumbling and loading up as the feature went on. I got close there for the pass, but couldn't get the power and run I needed off the corner. After that we was just holding on and trying to maintain our spot as it faded. Saturday started off well, but we made one small change before the feature and it hurt us the way the track was. We were just too tight to roll the center and bottom like I need for those track conditions. I was relieved to get back up to 7th and salvage the night after going to the rear. On that red I decided to add some fuel and gain rear weight to help get the left rear corner down in hopes it would help the car rotate better. We got lucky and it worked out for us. On a positive note, the speed and balance are there and just a couple of small choices come feature time cost us, but we are in a good position and have a solid package right now to keep running up front and battling for wins, and that's all I can ask for"
Up next for Matt and the ASCS National Tour is Boone County Raceway on Friday and WaKeeney Speedway on Saturday for another $5,000 to win race.
Matt and his team would like to thank all partners who are making the 2023 season possible. We look forward to the continued relationship throughout the year, along with future seasons to come: Triple X Chassis, All-Star Performance, Missile Motorsports, Reece Construction, Outlaw Wings, KSE Steering, Winters Performance, A-Rock Materials, Smiley's Racing Products, Hoosier Tire, Keizer Wheels, Factor 1 Racing, Smith Titanium, Simpson Race Products, Huggins Cams, Kaeding Performance /FK Shocks, Ultra Lite Brakes, Maxima Racing Oils, Eaton Industrial, Hot Rod Powder Coating, Rod End Supply, Maxwell Oil, Schoenfeld Headers, KEN Enterprise, Edison Auto Body, Brodix Cylinder Heads, Swindell Bleeders, D&W Towing, and T&L Foundry.
2023 STATS: Starts-20, Wins-3, Top 5's-10, Top 10's-16
ON TAP:
6/30/23 Boone County Raceway - Albion, NE
7/01/23 WaKeeney Speedway - WaKeeney, KS
LIVE RACE COVERAGE: Visit http://www.racindirt.com for paid, live audio and live feature video to subscribers during the season to catch all the National Tour events. You can also follow results live on the MyRacePass APP.
MERCHANDISE: New 2023 shirts available now on the website at www.mattcovingtonracing.com or at the races in the trailer and grandstands.
STAY CONNECTED: For all the latest news of Matt Covington during the 2023 season, visit his updated website, www.mattcovingtonracing.com, like him on Facebook, https://www.facebook.com/mattcovingtonracing, or follow him on twitter, @mattcovington95 along with Instagram @mattcovingtonracing
---
Submitted By: Matt Covington
Back to News