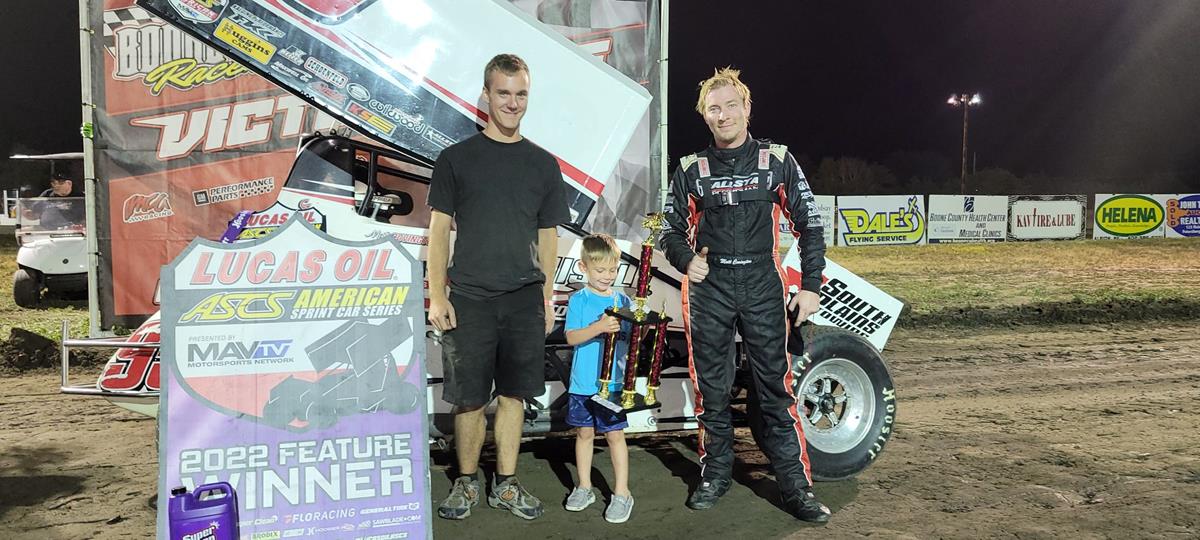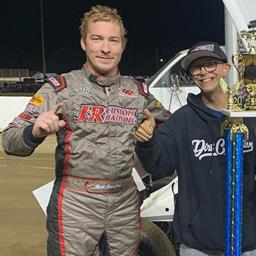 ---
First Win of 2022 Highlights Covington's Strong Weekend
Matt Covington Racing - Glenpool, OK (July 6th, 2022) Matt Covington earned his first victory of the season at Boone County Raceway last Friday. After opening the holiday weekend with a win, Matt followed up with a 4th and 6th place finish Saturday and Sunday at WaKeeney Speedway with the Lucas oil ASCS National Tour.
"We had the speed to put us up front," stated Matt. "It was nice to finally get the first win of the year and have something to show for our efforts."
Friday began with Covington being fastest in time trials and then winning his heat, earning him the high point award and 4th starting position in the feature. Matt ran a smart race, ultimately hustling the high side to take the lead and cross the checkers for the first victory of the season.
"We were good Friday and had the car to win the race," Matt commented. "I found the speed on the top and was able to get by Martin for the lead. I started to get conservative late, thinking I was the only one up there, but after the late caution, I got back up on the wheel and brought it home for the win. Such a relief for me and all my supporters, along with Matthew Howard who's been busting his butt all year without much luck or success."
Saturday saw Covington finish 1st in his time trials and 2nd in his heat race, earning him the high point driver of the night again. Matt pulled the six pill for the inversion which put him 6th in the feature lineup. It was a quiet feature for Covington as he patiently worked the field, mixing it up with a fast top-5 group, before rallying late and crossing the checkers in 4th.
Matt rolled into Sunday looking to close out the weekend with the same speed and success as the previous nights.
For the weekend finale, Covington drew a strong group of cars for qualifying and the heats. Qualifying 4th in his group and finishing 2nd in his heat resulted in an 8th place starting spot for the feature. Missing the setup just a little and lacking winning speed, Covington fought to make strategic moves that ultimately placed him 6th at the race's end.
"I have good but mixed emotions about last weekend," remarked Covington. "It was good to get our first win of the year, but the competitive side of me wishes I had done better the last two nights. But I can't complain as it was our first weekend with a string of strong results, which really demonstrates all the hard work Matthew's been putting in all season. And we finally got to put on a good show for all our sponsors who have been behind us, even when we're not doing well. I'm very optimistic about our performance and hope to keep it going."
With the cancellation of the ASCS National race due to tire shortage the team is still trying to figure out where they will race on Friday and Saturday or use the option to stay home and continue to work on things in the shop for the upcoming ASCS Summer Sprintweek.
Matt and his team would like to thank all partners who will make this 2022 season possible. We look forward to the continued relationship throughout the year, along with future seasons to come: Missile Motorsports, Triple X Chassis, A-Rock Materials, All-Star Performance, Loose Change, South Plains Towing, KT Enterprises, Outlaw Wings, Winters Performance, Smiley's Racing Products, Hoosier Tire, Keizer Wheels, Factor 1 Racing, Wilwood Brakes, Smith Titanium, Simpson Race Products, Huggins Cams, Kaeding Performance /FK Shocks, Eaton Industrial, Hot Rod Powder Coating, Rod End Supply, Maxwell Oil, Schoenfeld Headers, CSI Suspension, KSE Steering, Edison Auto Body, Brodix Cylinder Heads, Swindell Bleeders, D&W Towing, and T&L Foundry.
2022 STATS: Starts-16, Wins-1, Top 5's-6, Top 10's-9
ON TAP:
7/8/22 Weekend-TBA
LIVE RACE COVERAGE: Visit http://www.flosports.tv for paid, live audio and Live feature video to subscribers during the season to catch all the Lucas Oil ASCS National Tour events.
MERCHANDISE: New 2022 shirts available now on the website at www.mattcovingtonracing.com or at the races in the trailer and grandstands.
STAY CONNECTED: For all the latest news of Matt Covington during the 2022 season, visit his website, www.mattcovingtonracing.com, like him on Facebook, https://www.facebook.com/mattcovingtonracing, or follow him on twitter, @mattcovington95 along with Instagram @mattcovingtonracing
---
Submitted By: Eric Covington
Back to News